Continuing to experiment with a new layout based on feedback from the commentary topic. It was suggested that I add a ring around the image, and I had the choice of either moving the word and translation texts higher up, which would have covered more of the illustration, or doing this.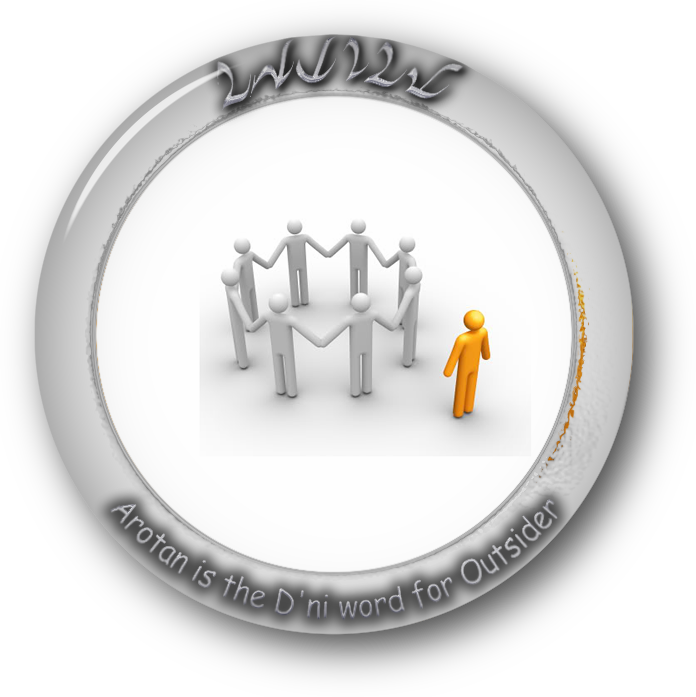 Arotan is a word that calls for a little thought. While "outsider" is a translation that captures its meaning, we are told that the literal translation is "other". Yet that makes no sense, because the
-tan
suffix is a modifier that "changes a verb into a noun that performs the verb". The root word,
aro
, would have to be a verb to have that suffix, and "other" is an adjective.
Much the same applies to "outsider". "Outside" is a noun, not a verb, so the root word
aro
can't be that either.
The waters are even more muddied by the habit of many players who like to translate it as "book-worlder", which makes even less sense because in D'ni, bookworld woud be
kordova
, and the
-tan
suffix wouldn't fit that either because it's another noun.
In summary, I doubt that we really know what
aro
means yet, only that it's a verb of some sort.
_________________
*
b'tagamem mot seKem ril ge'Dan Kenen reKElen faex b'sEnem ge'Dan
--
lårE leDA
Until next time! -- Larry LeDeay
3
# 11308
The Lost Library of D'ni