Fezz wrote:
Yo GP,
Do you have any idea what TrueSpace uses for an engine? Blender has BGE. I am hoping TrueSpace has its own engine for MMO interaction, or maybe it needs to be imported into Director11?
Thanks for the info, the retrun of Myst is sooo very exciting.
Fezz
KI # 10065883
Not sure what the engine is.. It may be their own. They will make the SDK for TS7.6 available within the next 30 days, so you can fine out more then.
The stranger wrote:
Sounds like a good program...few question:
Anyone built something in it that worked on uru?
Is it easier than blender?
Can it make higher quality objects than blender in less time than blender?
I think that there are at least 3 people that use TS, then import to blender to make thier ages.
I think it is much easier than blender
I don't know if the objects are higher quality or not. That would depend on the artist. TS and blender will both handle large-poly objects. The "ART" is in making a High-poly object into a low-poly object and still look good.something like this...
I have a temple that has molding on 4 sides. The 4 sides of molding were high-poly, and I made them with less ""points" That is where two lines cross in a wire frame.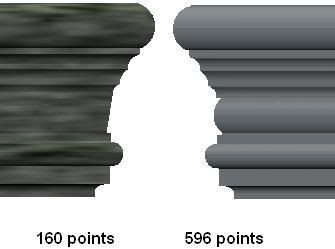 The texture is one that I made myself.