This topic is a variation of my monogram-style vector art. I'm taking words of D'ni and illustrating them.
An index of the word illustrations was suggested by korov'ev, and he put his money where his mouth was by making one. We'll add to it as I post more words.
The first illustration is a chart that shows my style of transliteration. It's not important that anyone learn it, but it may help you figure out how to pronounce the words using my notation... which is kind of the point of a transliteration chart to begin with.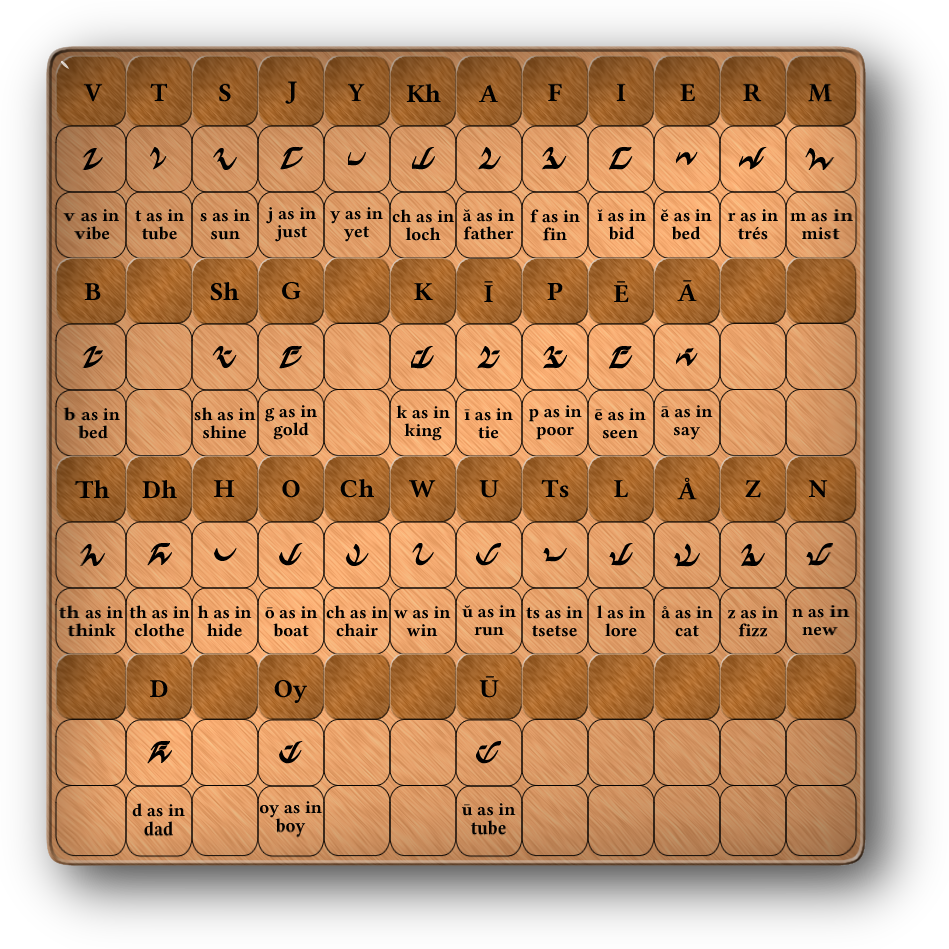 The question might arise as to why I have my own transliteration system. The answer is "why not?" Other fans invented their own system, so who's to say I can't do the same? In Myst game fandom, there are currently two systems for transliteration of D'ni writing. They are called OTS and NTS.
OTS is the initials of "old transliteration system". It's the method of writing D'ni in Latin characters used by Cyan Worlds. However, it has flaws. There's no one standard for OTS because it changed from game to game and sometimes from person to person, depending on how they thought words should be spelled. Even RAWA himself uses a personal variation of OTS, and he inserts dashes in places other people do not. When RAWA writes "shemtē", he spells it "shehm-tee". OTS is also notorious for having added extra letters to words in order to aid people in pronouncing them correctly. This can backfire, though. Take the D'ni word
meUr
. In OTS, it's transliterated mehoor. However, the h that is added looks like it should be pronounced "me-hoor", when it's really supposed to be "meh-oor".
NTS was invented by a group of fans who were interested in learning to speak, read, and translate D'ni. NTS is the initials of "new transliteration system". They wanted to have a way of writing D'ni words that would mirror the D'ni phonetic orthography. To accomplish that, they decided to use a number of European letters that do not exist in English. It works well and truly captures of the spirit of the D'ni spelling. However, it also has flaws. To people who do not know what sounds the European characters represent, it can make D'ni words look like gibberish.
The table above is my personal system, so I suppose we can dub it LTS, or "Larry's transliteration system". It also has flaws and doesn't capture the phonetic orthography of D'ni like NTS does, but my aim was to make it the easiest possible system to read and learn to pronounce the words. It is my hope that it succeeds in doing that much.
Let's use the Rules of Gehn as an example of all three methods. In English, they read: The Rules of Gehn. Gehn is our master. Gehn created us. Gehn defeated Atrus.
Now, here's how they look in D'ni using the different methods.
OTS:
.Relehshteeokh Gehn .Gehn kehnehn nahvahot .Gehn komahrnehn seht .Gehn kodormahdhen Aitruhs
NTS:
.releštíox gen .gen kenen navaot .gen komarnen set. gen kodormaðen étrus
LTS:
.Releshtēokh Gen .Gen kenen navaot .Gen komarnen set .Gen kodormadhen Ātrus
Does that make my point for me?
LTS relies on the Maori English keyboard set, which should be an option in just about every copy of Windows. I'm not sure if it's a standard feature in Mac or Linux, but even if it isn't, it should be an installable option. To get the overlined vowels, you just press the ~ key before typing the letter. So, a capital long 'a' sound is ~-shift-a, and comes out as Ā. The only character left out is the a-ring, i.e. the 'å' character, and I use the Windows character map utility for that.
_________________
*
b'tagamem mot seKem ril ge'Dan Kenen reKElen faex b'sEnem ge'Dan
--
lårE leDA
Until next time! -- Larry LeDeay
3
# 11308
The Lost Library of D'ni