Please join us in the city for the biggest, baddest group photo ever!
Let's bust the city at the seams folks!
February 23rd, 12:00 cavern time, LIBRARY PLAZA
Please try your best to make it for the photo (selfish plug here), I will be leaving the cavern at the end of this month (unrelated to recent announcement
) and would love to take a nice momento to take with me. For those of you that can't make it...lets schedule more of the photo's to make sure everyone gets a chance to participate!
Thanks in advance,
CS
ki # 9498214
EDIT
Thanks one and all for all of the fun at each of the photo events
Here is the link to the latest slideshow from 2/23 at Public Library. I wanted to get more pics, but ended up with technicial errors, and couldn't get back to cavern...sorry all! There are a also some photos taken as some arrived and gathered, thought you might like to see the progress.
I will post individual pics at the end of the thread later.
Again, thanks, it has been a lot of fun.
[spoiler]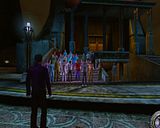 [/spoiler]